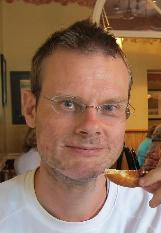 John Tromp has answered the question Go players had for so many years: "How many legal positions can be constructed on a 19x19 board?" Well, his answer is as follows:
208168199381979984699478633344862770286522453884530548425639456820927419612738015378525648451698 519643907259916015628128546089888314427129715319317557736620397247064840935 positions.
Please read John's very interesting report.


Mainly thanks to Andries Brouwer various Japanese tournaments have been made up-to-date.
The replayer has been extended with search capabilities. So, provided you have created a repository you can search any position while replaying Go games using our GoBase pattern search facility.
The replayer now also can be controlled using the arrow keys. See the tips in the replayer for all details.


At the age of 100 one of the greatest Go players ever died on 2014-09-30 at 01:11 in the morning. Go Seigen's legacy is a treasure of hundreds of fascinating games. He will be remembered forever.


Who is this 20 year old who is ahead in the Meijin title match against Cho U? Meet Iyama Yuta, Japanese hope in an era where all international successes seem to be reserved for the Korean and Chinese Go players. Let's see how this great talent will develop. Replay his games on this site. The match is covered live on IGS-PandaNet.


Who is this Han SangHoon?! A young 1p professional from Korea who just recently entered the professional Go scene and is since scoring tremendously. His record is close to 90% against top-notch professionals like Cho HunHyun, Lee ChangHo, Park YoungHoon and Gu Li. His most recent success is beating On Sojin to reach the final of the prestigeous LG Cup tournament where he will play a best-of-three with Lee SeDol (who beat Hu Yaoyu from China). GoBase carries 58 games of Han,1p thus providing excellent study material to improve your game.


Who's going to stop Peng Quan, 7p from China in the 8th NongShim Cup?! Five wins in a row for Peng in this three country win and continue tournament. Deciding games to be played the coming days.


Massacre in the 11th LG Cup. All Japanese and most Korean players are eliminated from the tournament while it's only two rounds running. Who is responsible? The Chinese talents like Chen Yaoye and Hu Yaoyu. And of course the winner of the previous edition, Gu Li. Replay the games and learn from the masters.