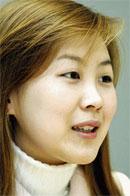 Han HaeWon, 2p (22 yrs). She is a new generation baduk player who has been changing Baduk from "philosophy" to "entertainment" and embraced the young people and females into baduk population. Pretty appearance, solid baduk skill, and bouncy tv performance attracted a few fans. There are more than 2500 regular members in her Internet fan café.
She currently is a regular for the Baduk TV programs "Sang Sang Baduk game" and "Challenge professionals". And she frequently appears as an assistant commentator for major baduk championships for national TVs. Especially "Sang Sang Baduk game" where she anchors with Lee SeDol has become popular even among people who do not play baduk.
About gossips regarding closeness between she and Lee SeDol, Han HaeWon dismisses saying "He is not interested in me but girls younger than he is".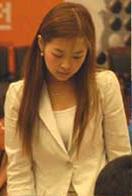 She started baduk when she was in the 4th grade of primary school and became a professional in 1998. Her teacher is Kim Won. Her winning percentage is over 40% which is not bad considering her extra baduk activities in media.
Recently she joined baduk education business, "Brain-up Baduk" which is a Baduk home tutoring business.
She majors in Chinese language at University for foreign languages.
She thinks she would have been a performer in musicals if she had not become a professional baduk player. She hopes she could host a regular talk show in TV in the future.
(Edited from JoongAng Daily)