It could be for his dream or for his son or for his family name. But Park says "it is for Baduk". He wants to take part in making Baduk the most popular leisure field by providing Baduk fans diverse Baduk channels. He would like to see Korean baduk not only the strongest in skills but also the most successful in commercial market. That is how he could help his son, Park YoungHoon 5 dan.

Following is an interview with him.

When did you start preparing for the launch of the Baduk channel?
The actual preparation has begun since September 2003. But the idea, feasibility studies, and etc started much earlier.

What are the main programs so far?
Mostly baduk study programs such as "Life & death", "Fuseki" and so on. "Born in the year of monkey" which is the handicap game program for the new year's day special received lots of attention. Thesedays, "Today's big match" (weekly highlight) is beginning to get popular. "Baduk class for the beginner and intermediate learners" is being planned. And also "Young professionals and top amateurs" will be broadcast within this month. From March, 50% of our programs will be of our production. There are a lot of innovative ideas. For instance, viewers can participate by producing their own programs of 5~10 minute length. We are planning to learn from the successful programs of Baduk TV (the existing station) and compliment less successful ones.

What was the motivation to launch a new Baduk TV channel?
I wanted to offer an optional Baduk TV station for Baduk lovers. Positive competition between the existing Baduk TV and our Baduk Channel will contribute to better quality programs for the viewers. Personally, I felt moral obligation to my son Park YoungHoon who was put into Baduk profession not by his choice but his parents' I thought it is my duty to make Baduk more proliferated in every respect including in TV. I will do my best to make good programs for baduk fans.

The existing Baduk TV has been solidly established with the good size of viewers. Do you expect difficulties in getting started?
Among 11 million households of cable tv subscribers, 5.5 million households have not included Baduk TV as one of their stations. So there is still a big potential market. The competition between the 2 stations will be better for viewers and also for the stations. One thing very certain is that the basis for Baduk market will expand. Korea recently initiated 5-working day system for public offices. It will spread quickly into private sectors. Then people will have 2 days of weekend holidays which will lead to more development in leisure industries. Baduk will be more popularized as part of the process. I wish Baduk Channel could play a role in the popularization of Baduk.

Do you think your channel will be a competition to Sky satellite baduk station?
The satellite tv stations are not in the same market. For the time being Baduk TV will be our main competitor.

Do you have plans to merge with other stations in the future?
Yes. We are planning to merge with Human TV, Leisure TV and other local cable Tvs.

Please comment on Park YoungHoon's defeat at the final of Samsung cup.
Losing Samsung cup was difficult for him and also for me. When Cho ChiKun was YoungHoon's age, he lost against Sakada Eio by 2:3 at the Nihon Kiin championship after taking lead by 2:0. Cho ChiKun comforted YoungHoon sincerely after the game. May be Cho ChiKun remembered his painful experience. I think that defeat will be a good lesson for YoungHoon to become a good professional player. He has been in slump after Samsung cup. I would like to see him recover from that quickly.

What is your vision about the future of Baduk Channel?
I would like to make diverse programs to satisfy baduk fans across age range. Baduk no longer is monopolized by people in 50s and 60s. There are young people and also people in their 30s and 40s. So I will make an effort to see the preferences of various groups and make suitable programs.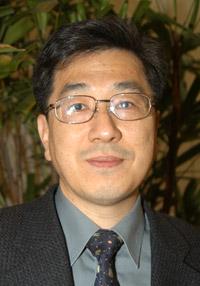 Park KwangHo
born 1953
1979 started his career as a TV journalist Worked for KBS, and SBS for 25 years.
2004 established the 2nd Baduk cable TV