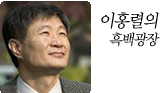 Episode 4: The Professional


Jimmy Cha
Is he a professional gambler or a professional Baduk player, or is this distinction even relevant? Whether it's poker, martial arts, classical music, or Baduk, he is at the highest level in all of them. Perhaps the only relevant distinction for this Renaissance Man is that he is, simply, a "professional." His name is Cha MinSoo, or as he is known more widely outside Korea, Jimmy Cha.
If any of these applies to you, please raise your hand. Anyone who's made as much as $370,000 USD in one day's work. Anyone who's amassed $20 million USD in career earnings as a poker player. Anyone who's reached the quarterfinals of a major international Baduk tournament two years straight. Anyone who has flown 120 times a year. Anyone who has survived a street brawl against thirty gang members out to get you. To top it off, anyone who holds a perfect record in Baduk against several 9 dans including Cho Chikun. Okay, it's not you.
The official title for Jimmy Cha is a professional gambler. In Las Vegas, he is considered as one of the top three cash game experts with Chip Reese and Doyle Brunson. Cha won his first $1 million USD in 1986 and has made that figure a habitual yearly earning since. Until 1996, he terrorized opponents in cash events in stud, limit, and no-limit hold'em varieties. It was when he flew 120 times to seek and destroy high-stake games all over the country. Why has he slowed down since 1996? He is taking his time off to care for his feeble mother stricken with Alzheimer's back in Korea. Even now and then he skips town for weeks, and when returns he explains his absence with a sly grin, "I gotta make a living, too, you know?"
Cha's mother is the crucial figure for the extraordinary man that Cha is today. While she was pregnant, Cha's father, a mid-level government employee, was abducted by agents from the North. The loss of her husband did not dispirit Mrs. Cha. Being a strong woman with savvy business skills, she managed to build wealth by wisely investing in the up-and-coming movie industry that turned out to be a huge success in the post-Korean War society.
Growing up privileged, Cha was given extensive training in piano, violin, swimming, table tennis, pool, and the list went endless. Violin remains to this day a viable expertise on which he could make a decent living. Among his lessons included Baduk, which he started learning at age 8 but didn't get serious about it until he entered middle school. In 11th grade he had become a 5-dan amateur and was already good enough to pass the preliminary stages of the pro admissions test. By the time he entered college as an economics major, he was arguably the strongest amateur in the nation, winning several amateur tournaments and representing Korea in various international amateur championships. It was only natural that he built a reputation as a can't-miss pro prospect.
There exists a behind-the-scene story involving Cha and his shady amateur status during his college days. When Korea was about to enter into a diplomatic relation with the People's Republic of China, the Korean Baduk Association faced a strange dilemma; the Chinese Weiqi Association and the KBA had agreed to host a series of friendly matches with their respective amateurs to commemorate the national event. However, most of the strong amateurs in Korea had already turned pro. Anxious that the amateur "leftovers" would be crushed by the overwhelming Chinese, the KBA allegedly blocked Cha from taking the pro admissions test. Cha conceded to the will from the top by remaining amateur until the conclusion of the matches. In 1974, when he entered third year of college, was he finally allowed to take the test, which he passed with flying colors.
After completing his mandatory military service, however, his mother sent his son away to America because she thought her spoiled young boy needed to learn life by living an unprivileged lifestyle. When he arrived in Los Angeles, the Asian communities welcomed their first resident pro ever. Looking back, he was one of the early pioneers in spreading and popularizing the game of Baduk in southern California in the late 70s.
In order to make a decent living, however, he had to do things other than just giving lessons on life-and-death. While working as an employee at a local gas station, he ran into three gang members looking to pump gas. Cha sensed instinctively they were going to fly without paying. He was right. Approaching their car, Cha and the punks got into an altercation in which the classically trained Kung-Fu expert (another product of his intensive childhood training) drummed three of them pretty good. They paid.
About a week later, a group of thirty gang members, along with the three that took a beating, marched into the gas station looking for Cha. To find sufficient moving space, Cha walked out to the front yard and proceeded to knock out two of them. In this dire do-or-die situation, Cha knew the only way to get out of it alive was to act calm and confident. Impressed at the sight of this unfazed Asian warrior under serious pressure, the boss said to Cha, "Who the ---- do you think you are, Bruce Lee? If you acted like a coward we would've already killed you." The boss and his followers left without causing any more trouble.
Surviving the incident, Cha quit his job at the gas station. Instead, he spent a considerable amount of time to learn how to play poker professionally with Chip Johnson, a renowned poker theorist in southern California. Combining game theory with his instinct of a professional Baduk player created a monster of a poker player. Throughout the 80s, Cha earned his reputation as one of the most successful pro gamblers in the country.
Despite his success in poker, however, his true love remained with Baduk. As a North American representative, he entered the 2nd Fujitsu World Championship in 1989 and beat two 9 dans from Japan to reach the quarterfinals, only to lose in the following round to his good friend Cho HoonHyun 9 dan. It was a stunning come-from-behind victory for Cho, which Kobayashi Koich 9 dan claimed in private an intentional loss by Cha. Cha responded to the charge saying, "I was clearly winning by a lot but when I started thinking about beating Cho HoonHyun, no less, I just couldn't keep my composure. I started to make mistakes. The truth is, I choked." The controversy notwithstanding, he went on to make history the following year by beating Japan's number one Cho Chikun 9 dan to again advance to the quarterfinals. He holds a notable 8-1 all-time record against Japanese players.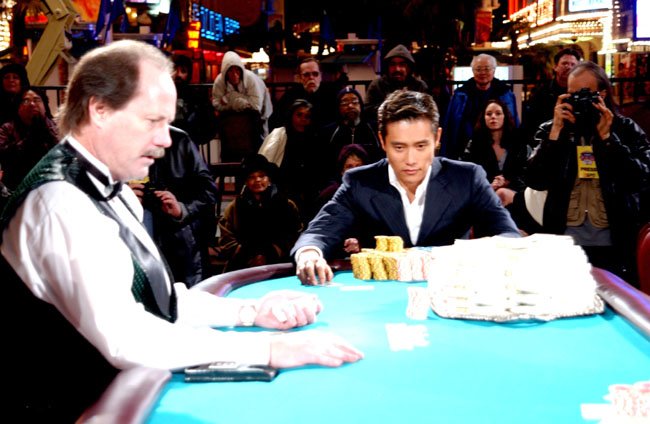 Actor portraying Jimmy Cha in "All-In"
Jimmy Cha is a former one-time American Go Association president who is currently sponsoring a pro tournament in China as well as one in the United States. His incredible story is being developed into a novel and TV series in Korea by prominent Baduk journalist Noh Seung Il. The title fits his dramatic life and career as a quintessential professional, which is simply dubbed, "All-In."
Author: Lee HongReal
Mr. Lee is one of the most respected Baduk journalists in Korea who is also a 5-dan amateur. Lee currently writes columns for the Chosun Ilbo, Baduk TV, and the LG World Championship, among others. He is a graduate of Yonsei University and holds a masters degree in Korean Literature from Hanyang University School of Journalism.