Introduction
Catalin Taranu, a 28 years old Rumanian who succeeded in becoming a pro in Japan, has been promoted to 5-dan in June of 2001. This means that he entered the ranks of the 'strong' pros. In his favourite bar / pub he tells Pieter Mioch about himself, Rumania, and his life in Japan. On this page the first part of the Catalin Taranu story.
As a background for the Carpathian mountains in the North, turning into the Transsylvanian Alps, Rumania finds its place / accommodates itself in South East Europe between Ukraine, Hungary, Yugoslavia, Bulgaria, and the Black Sea. In spite of the beautiful nature and the many ideal ski resorts, the outside world, indulging in movies, knows Rumania mainly because of 'The son of the dragon'. This cruel young man, Vlad 'Pole Man' Tepes, was born in the 15th century in the town of Sighisoara. Usually he is referred to by his family name, Dracula. As far as we know he is no ancestor of Catalin Taranu.
Catalin was born in the town of Gura Humorului in the district of Bucovina on March 31st of 1973. In the mountainous North of Rumania his father was politically active in the Communist Party. Before he retired he filled among others the post of mayor of Gura Humorului and later of Vatra Dornei. The mother of the Taranu family teaches biology in school. Catalin's elder brother, as far as we know not a go player, is named Cristian. Because of his father's political career, they needed to move house every once in a while, and when Catalin was seven years old, this made him end up in the city of Suceava, in the region of the same name.
Moving around all the time wasn't much of a problem for me. Of course, right after moving it is difficult for some time, but I always welcomed the chance to meet new people and make friends. When you're young, that's easy.
Before Catalin went to Japan, he lived in Vatra Dornei, and this town with less than thirty thousand inhabitants meant an opportunity to get acquainted with the game that would change Catalin's life dramatically.
Why the go players from Vatra Dornei are so strong? Well, that's because of the fresh mountain air, of course,
Catalin tells with a smile over a glass of wine. And believe it or not Vatra Dornei turns out to be indeed a kind of spa where one can enjoy medicinal baths and clean air.
Catalin played his first game of go in April of 1989, due / owing to his mathematics teacher Cristian Cobeli (also assistant professor at the Rumanian Academy of Bucharest). Cobeli, a man of mathematical consequence, had reasonably successfully set up a little go class. It was here that Catalin learnt about the game from China; he played with Cobeli and 'first generation' students Marcel Crasmaru and Petru Oancea.
I was convinced my future would be in mathematics. To me, the world consisted of digits and variables; I was all taken by mathematics and Cobeli was a very good teacher and coach. Until my 15th at least my whole life revolved around mathematics and my preparation for the national mathematics Olympiad, in which I participated several times. This Olympiad is in a number of rounds; it starts at school, next regionally, then in provinces, and if you're very good you can enter the nation wide finals.
Catalin never managed to reach the national finals and probably the go world can call itself lucky. Had he ever attained such a high mathematical level, he might have never indulged in go so much.
The big minus of being so completely absorbed by mathematics is the loneliness. Studying and preparing for a meeting becomes the main focus of your life, and the bottom line is that you do that all by yourself. Although I was completely taken with mathematics, I never enjoyed that loneliness. Especially not when you study your head off for a year with as your only goal to perform well in the Olympiad, and not make a mess of things on the great day in all of three hours' time. Go at least is a two person thing; that was quite an improvement for my social life, going from one to two. From the moment on that I came into contact with go, mathematics soon took second place. This is not to say that I wouldn't have stopped it anyhow, because of the antisocial character of a mathematical career. Whatever, all the passion I ever had for numbers easily transferred to go. I was totally crazy about go.
From my twelfth my life 'really' started. Vatra Dornei was much more interesting than the places I had lived before. Cobeli taught part time at the school I attended at the time. Teaching in the middle of nowhere was a way for him to concentrate on his own studies; he was well on his way to become a professor in mathematics. Cobeli was a cool breeze at school, and I often visited him after lessons to borrow new books. I think that at the time Cristian Cobeli was about shodan in strength. In April of 1989 I played my first game of go. I don't exactly know why, but I remember that period well. The first two months were agony. Although I thought I understood the rules and the game certainly captivated me, I really didn't know what exactly to do. I gave it a shot and hoped I'd become a little better fast.
I think this is the only weakness of go, that starting period in which beginners get the rules explained but can't really do anything with them at all. The two months it took me to get a grasp of what really was the general idea, are no exception. Only people slightly obsessed with the game will come out on the other end of this. In that respect chess players are a lot better off, there may be more rules but the goal and the way of playing become clear much sooner than with go.
Catalin's mathematics teacher meant a goldmine of mathematical wisdom and new ideas for Vatra Dornei. Many a teacher will envy how much Cobeli managed to achieve with his pupils. In Catalin's period there were certainly not dozens of go players-to-be. The number remained under ten, but strange enough all of Cobeli's wards fairly easily reached dan level. After the first generation of players already mentioned before (Marcel Crasmaru, now a Tokyo resident, and Petru Oancea) came generation number two, probably now still the strongest Rumanian twosome, Christian Pop and Catalin Taranu. After Catalin had been living in Japan for some time, Christian Pop moved in with him and stayed for a year. He almost also made pro, Catalin and Pop used to play even in practice games. Pop was very close to professional strength, when he decided to pack it in and went homeward bound.
Hardly six months after Catalin's learning the noble game, he played his first tournament in Eforie Nord ('not a city, only a resort') at the Black Sea. The occasion was the Rumanian championship Catalin also participated in, in the 10-4-kyu group.
The top eight participants played the final for the championship, after that there was a group from 4-dan to 4-kyu, and below that was my group. No one really knew what kind of grade to pin on me and I believed I played as a 6-kyu. Imagine the surprise when I won all my games, eight in a row! I won my group and you can understand this was a great encouragement for my go career. I was sixteen at the time and quite happy with my result, it gave me an enormous confidence. It earned me my 4-kyu ranking and from that moment on I started playing all kinds of tournaments.
In Rumania the rankings seem to be distributed rather severely and it is not so simple, even at the kyu level, to adapt one's own ranking. This explains why, being undoubtedly much stronger, in a tournament in September 1990 Catalin was still playing as a 4-kyu.
Yeah, that was a nice tournament, the 'Rumanian Cup'. I played as a 4-kyu there without a worry in the world. For the high dan players it was different, of course; they took the tournament and their games extremely serious. Of the six rounds, in the third or fourth I was paired with a Rumanian 4-dan, Robert Mateescu. Holding black I played the game of my life (I thought at the time) and I sort of overthrew the tournament with a half point win!
Game 1
Black
Catalin Taranu, 4-kyu
White
Robert Mateescu, 4-dan
Event
Rumanian Cup
Date
September 14 or 15, 1990
Place
Rumania
Round
Third or the fourth of six rounds in total
Result
Black wins by 0.5 point
Game record
Big Fish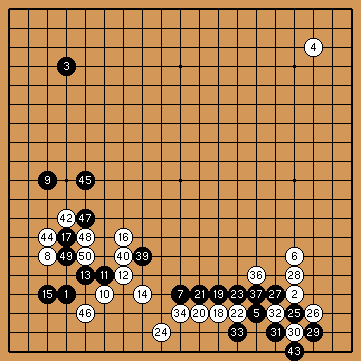 White 20 is not very interesting for White, playing 21 instead of 20 is harder on Black.
Black 25 is a brave move; if Black now gets the opportunity to solidify his shape on 27, it looks okay for Black. White 26 may be better on 27; if Black defends his cutting point between 5 and 23, White can push through at 32.
Black 29: Pieter: 'When I played through this game for the first time, I was struck by your healthy fighting spirit; such a move as 29 says it all. Certainly no move you would expect from a weaker player.'
Catalin:'Umm, if Black doesn't win the ko White naturally starts, then black 29 is a little ? - I wouldn't play there now.'
(35, 38, 41 ko)
Figure 1 (1-50)
Stroke of Genius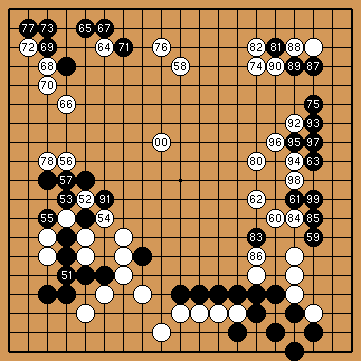 But Black wins the ko and with the benefit of hindsight every move he made in the bottom right becomes a stroke of genius.
White probably made a mistake playing his continuation in the bottom left; after black 55 Black's position is very good. With 59-61-63 Black makes a rock solid group. Although white 60 and 62 are reasonable moves, they seem too slow for White to catch up.
Figure 2 (51-100)
Middle game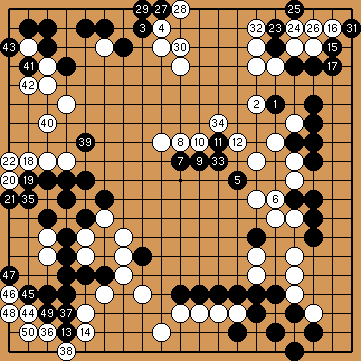 The strength difference doesn't show in the opening, but then White settled into the middle game. Towards the endgame it becomes apparent that White is the more experienced player, and probably also stronger.
Figure 3 (101-150)
Early Endgame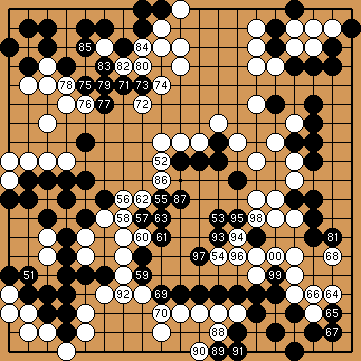 Black does lose a couple of points, but he never gives the impression to succumb under White's pressure.
Figure 4 (151-200)
Mental Power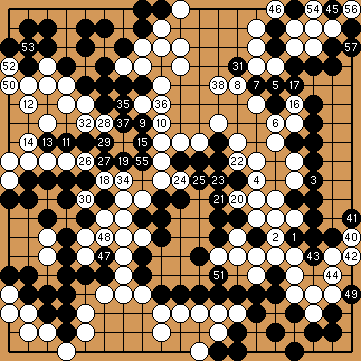 This mental power, not collapsing and all of a sudden doing strange things, certainly manifests itself already. After this tournament Catalin was quite rightly (perhaps a little late) promoted to shodan.
(233 takes 230; 239 connects; 258 at 245)
Figure 5 (201-258)
Many thanks go to:
Catalin Taranu, for many hours spent talking.
Robert Mateescu, for making available the game protocol (he could just as well have thrown it into the fireplace).
Jaap Blom, for translating the article from Dutch to English.
Radu Baciu, who helped me by checking and providing a great deal of information.
Toma Iulian, for help with making contact and providing E-mail addresses.