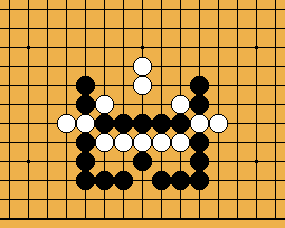 Archive The place in which public records or historic documents are kept.
(From The 1913 Webster)
(diagrams by sgf2misc)
These problems come from the Chinese book "Wei-chi Ancient Patterns". It's presented to you for your entertainment. In case you really try to solve the problems, here is a suggestion: if a sequence of moves doesn't work try changing the order.
Jan van der Steen, 2003-06-07
Collection overview
There are three chapters:
Limited access
All material is © copyright by Jan van der Steen. No reproduction, publishing or use in any form is allowed without his explicit permission. The first 3 problems at each level are freely accessible. To access all problems you need a GoBase account. Please refer to the registration page for further details.