Selecting the replay icon from the game listing will start up the online replay board. Do this now with one of the games you uploaded. If necessary create an SGF file with a few moves using one of the many freely available SGF editors.
We will define a pattern and use GoBase to search for all games which contain the selected pattern. Move to the moment in the game which contains the position which you would like to search. Now you have to indicate the part of the board relevant for the search. This selection is done using the (sensitive) border just outside the board. This border is also used to display the board coordinates in case you have these turned on. You select one point on a vertical axis and one on a horizontal axis. These two points define one of the corners of a rectangle. The other is implicitly defined by them. The picture below will make things clear (the arrows also indicate where you clicked):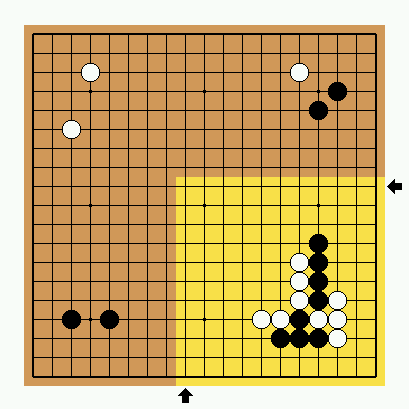 Selecting a region
Once you selected a region you will notice that the search button below the board is turned on.
Selecting this button will start the search. The result will be a report page with a variety of information on it but amongst others the list of games which contain the pattern you selected:
Selecting the replay icon of games in this listing will start a replay board at the position where the pattern you searched for occurred. The replay board is search enabled by selecting patterns as usual.
If you visit the analyse overview you will notice your query is included in the list. But please note that if the analyse overview window was open already you need to refresh it manually.
You can remove region indicators by selecting them. You can move region indicators by selecting another position for them.
Right now all searches are done in the main database, ie. the database with somewhere around 25.000 professional games (some 5 million positions) from the past and the present. In the future a switch will be offered which will enable you to select the main, private or both databases.